about little death leather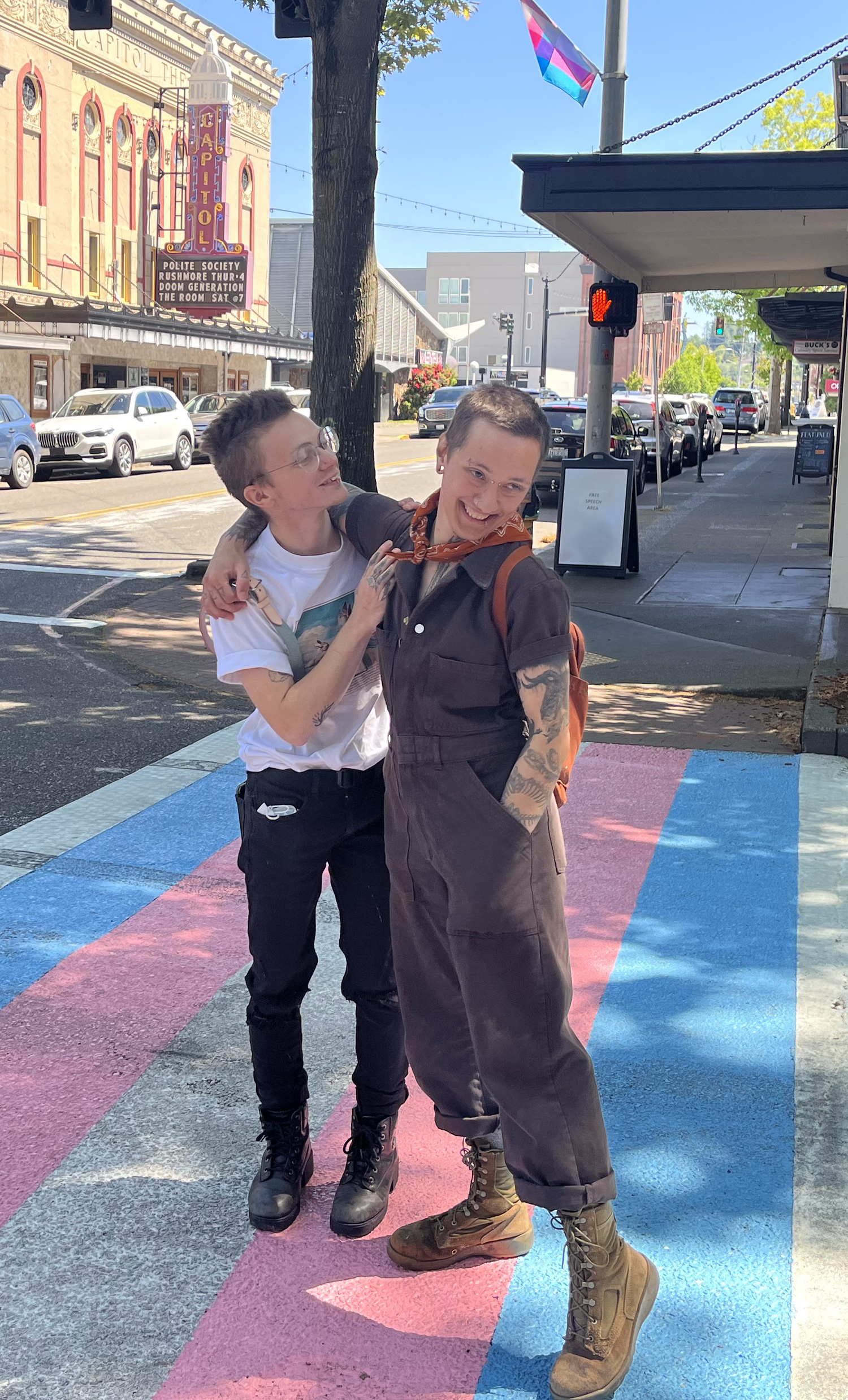 Little Death Leather is an entirely handmade, sustainable line of leather goods crafted by Dimitri. Each piece is cut, burnished, polished, sometimes hand dyed or painted, assembled, and finished by hand. Dimitri's partner, Ren, assists with administrative tasks, designs merchandise, and sometimes hand paints custom items, but Little Death Leather is otherwise a one-man operation.
LDL focuses on accessibility. While needing to charge money means that something can never be fully accessible, Little Death Leather maintains the lowest prices possible and offers discounts to sex workers. Sizing does not affect cost, and any piece can be adjusted to accommodate disabilities, needs, and preferences upon request.
Every LDL piece is made from sustainably vegetable-tanned real leather. We do not offer leather alternatives, as "faux leathers" are entirely plastic, the production and disposal of which causes severe environmental damage, as well as being far less sturdy than genuine leather goods.
If you encounter any issue with a product received from Little Death Leather, don't hesitate to reach out! Repairs and resizing are completely free.
FAQ
Do you take customs? Can you make [X]?

Little Death Leather accepts commission inquiries on a rolling basis. Reach out through the "Contact" page with information about what you're looking for and we'll get back to you as soon as possible. We are willing to make almost anything! Check out our Gallery for some examples of items we've made that aren't for sale on the site. Please note that Little Death Leather reserves the right to refuse any commission inquiry for any reason.
Do you do international shipping?

We can ship to Canada (we are USA based); unfortunately, due to EU / UK shipping regulations, it's nearly impossible for a small business to navigate shipping there. We have attempted to ship internationally and it tends to end up costing us more than the product even cost due to frequent issues. We really wish we could, but it's just too challenging for a tiny business, we're sorry!
What's the difference between custom, made-to-order, and ready-to-ship?

All listings are made-to-order unless stated otherwise.

Ready to ship items are completely finished products. These will be mailed as-is and cannot be modified. Make sure to double check your measurements against any listed measurements to ensure they will fit!

Made-to-order items are set products that can receive minor customizations, such as leather and hardware colors, and will be built to your measurements. Made-to-order products should be ready to ship in 3-8 weeks depending on our current queue and other life matters.

A custom item is something made fully to your specifications and can be any variation of a product already offered or something else entirely. These take an estimated 1-4 months.
How do I customize my made to order item?

After selecting your item and adding it to cart, you can go under the "add-on" category to select custom painting, text stamping, etc.! Be sure to include notes specifying what customization you want in the cart notes before checking out (as well as selected color swatch and measurements). If you'd like something not offered on the website, feel free to send us a message and we'll see if we can make it happen.
How do I take my measurements?

Check out our Measurements page for guidelines on how to measure yourself!
How do I care for my leather goods?

Store out of direct heat and sunlight. If fluids get on it, wipe down with a damp cloth and let dry before storing. If it gets particularly grimy, wipe down with Saddle Soap. It's recommended to oil a leather piece once a year, but if stored properly, you are not likely to need to oil it more than once every few years.
What makes your leather sustainable?

We exclusively use "vegetable tanned" leather, which is leather tanned with tannins extracted from tree bark. This means that there is no toxic chemical runoff and the waste is biodegradable and eco-friendly. The leather produced is a natural product that will last multiple lifetimes if cared for and, once at the end of its usability, can biodegrade naturally.
Why don't you offer vegan options?

"Vegan leather" is plastic. The production of plastic requires extraction of oil, intensive mechanical processes to refine that oil into plastic, and releases microplastics into the environment. The resulting product is short-lived and must be replaced frequently, creating more landfill waste. The application of the term "vegan" to plastic leather alternatives obscures the fact that they do severe environmental damage that results in substantial animal death from pollution and habitat loss.
Do you have discounts or sales?

Generally, no. The time and material costs required for leather goods make sales unsustainable, particularly since our items are already priced as low as we can manage.

The one exception is for sex workers. If you are a current or former sex worker interested in a piece, contact us about what you're looking for and we'll give you a discounted quote.
I have an issue with my order / my piece doesn't fit right!

Contact us! You can always send a piece back to us for size adjustments, hardware replacements, or other repairs for free, for life!

It can be hard to translate a piece's sizing long-distance, so we understand that things might not fit perfectly when you aren't working together in person and we appreciate your patience when adjustments are needed